XXII Convention 2015

SEK partners can participate in designing the official poster for this convention.
More information:
FINAL POSTER CONTEST RULES SEK 2015 CONVENTION
VOTING FOR THE POSTER CONTEST
Author:
Neli Martín

Photo:
Neli Martín
Online Information Bulletin - Zaragoza 2015 -
Details, plans, activity recommendations, hotels, menus, etc.
You can view or download it here: XXII SEK Convention Bulletin - Zaragoza 2015 -
ANDROID app for XXII SEK Convention
Capture the image with your Android phone or click to download.
You can access the results as soon as known, online map, city information, hotels, convention bulletin, etc.
ONLY SPANISH VERSION AVAILABLE. Pictures, map and some sections needs data connection.
ANNEX - General rules XXII Convention
You can view or download here: General Rules XXII Convention
Transport discounts for XXII SEK Convention
Not necessary to be member, any convention attendees and their companions.
Only national transport, thanks to our partner:

RENFE: 35% discount.
On the conditions of this offer will not apply any other discount. Discounts will apply on all trains and classes, national tour on the prices of the General Rate. From two days before the convention until two days after the close of the event.
In order to have the discount send an e-mail with the details of those attending the convention who are interested in using Renfe as transport: mail for requesting Renfe discount bond where once checked the data will be forwarded Discount Bond with its certificate.
Once printed, the bond must be presented in the office vending tickets. The travel document or identity card is valid for tickets purchased in any of the outlets (stations, travel agencies or sales offices), usually 60 days in advance. Using Internet (www.renfe.com) you must select "congress and events discount" and the number sent in e-mail.RENFE may request the travel card access control or on the train by the Auditor / Supervisor on train.

ALSA: 15% discount.
Promotional code is KI0115, it must be introduced in the web of ALSA when purchasing the ticket. Discount valid for the period from April 29 to May 5 and can be used since now.
---
Pre registration of fish contact
---

Joaquín Diago Collantes
e-mail: notho5@yahoo.es
Fish sending and reception
Clearly indicate that they are for the SEK's convention
In both cases, please notify in advance to this e-mail: malekith27@gmail.com
---
Zaragoza Aquarium
Pza. EXPO, 5 [Recinto EXPO] - 50.018 - Zaragoza
Tfno. 976 076 606
---
Juan Pablo Campo Fort
C/ Sor Juana de la Cruz Nº10, Casa 4, 50018 - Zaragoza

SEK Photography Contest - Zaragoza 2014 -
---
Convention Program -ZARAGOZA 2015-
FRIDAY the 1st of May
- 11:00 Opening of the SEK's 22st CONVENTION and Killifish Show.
WAINTING FOR TRASLATION
SATURDAY the 2nd of May:
- 10:00 Exhibition Hall opening.
WAINTING FOR TRASLATION
SUNDAY the 3rd of May:
- 08:00 Killifish packing.
- 10:30 Auction of killifish in show.
WAINTING FOR TRASLATION
Convention place:
Zaragoza Aquarium: Recinto Expo, Pza. EXPO 5, 50018 - Zaragoza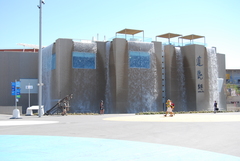 Click on the image to open on Google Maps
We count on you!
Partners:
---
---