Welcome.
Spanish Killifish Society (Sociedad Española de Killis, S.E.K.) is a national association, with an international proyection and with no lucrative aim. Our objectives are studying, promoting conservation and growing of fishes from Ciprinodontidae family, aka Killifish.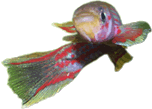 Important news:
XXIV SEK's Convention Results
Ortuella (Bizkaia), from April 29 to May 1
Click on image to access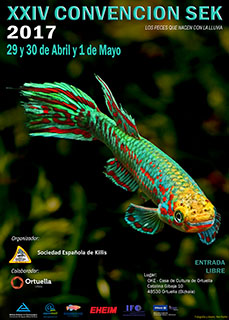 ---
CALL FOR SEK ELECTIONS
SEK's Board 2017-2021
Info:
---
Now members can consult accounts
of SEK at the end of 2016.
At this site section: Members archives.
---
SEK Christmas Lottery 2016
Book before December 8th!
---
XVI APK's Convention
Torres Novas,14-16 Octuber
---
XXIII SEK's Convention
Bilbao, from April 29 to May 1
Click on image to enter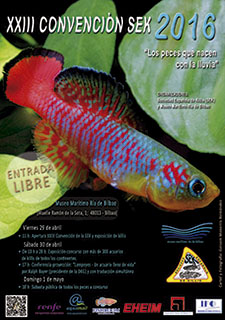 ---
Extraordinary General Assembly
February 14, 2015, Manganeses of Lampreana (Zamora)
1. Proposal Article RRI including: copyright
2. Submission to the vote of the membership
3. Questions and answers to the Board
How to vote:
- directly at such meeting
- delegated via assistant, vote in sealed envelope and DNI copy
- by post, vote and DNI copy in envelope
- email to Board, with name, surname, member number and vote

The different formats for the vote will be announced shortly.
The post with the announcement: here.
---
Lowered fees
2014 renewal, 1 December to 31 January
Dear members:
As you know, and after the vote in the General Assembly this year, the fee is reduced to 30 euros. People who direct debit last year, will be charged automatically. If someone wants to direct debit their fee, please send an email to the treasurer with the data.
Please check: Online service for payments and renewals.
Press F5 to refresh on that window if you still see old fees.
---
DISMISSED SERVICE
Almost nobody used this payment method and meant an unnecessary cost.
Online transactions will be ​​exclusively through Paypal.
---
Membership card generator
Access it from your profile
---
New SEK's logo
Old logo after being vectorized
Post where you can appreciate changes in higher resolutions and download: HERE
---
Change in the member's numbers!
As announced in the last BIK, the Board has decided to make a new change in the member's numbers, going to take a structure composed of: SEK [year of entrance] / [number of order in that year].
Example: SEK2013/01 would refer to the first member registered in 2013.
This way the new number assigned for members would become final. The new number will be lost in case of withdraw.
Read full notice on the forum
Changing members number format
---
You can realize your payments via:


Please check: Online service for payments and renewals.