Important news:
Due to the COVID-19 pandemic,
SEK will not hold its 2021 Annual Convention
---
---
17th CZKA Convention 2020
Prague (Czech Republic), 18th till 20th September 2020
---
20th APK Convention 2020
Torres Novas (Portugal), 16th till 18th October 2020
---
45th KFN Convention 2020
Asperen (Netherlands), 28th till 30th August 2020
---
XXVII SEK Convention 2020
El Cuervo de Sevilla, from April 24 to 26 of 2020
---
XXVI SEK Convention 2019
El Cuervo de Sevilla, from April 26 to 28 of 2019
---
---
XXV SEK Convention 2018
Ortuella (Bizkaia), from April 20 to 22
Pincha en la imagen para acceder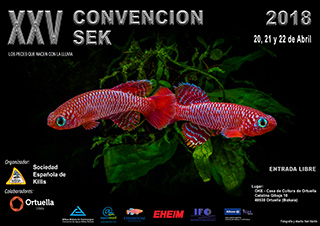 ---
Now members can consult accounts
of SEK at the end of 2017.
At this site section: Members archives.
---
34th BKV Convention 2018
2nd and Sunday 3th of June, Wommelgem, Belgium.
---
New SEK's board



Dear partners.
Today, 05/29/2017, the new Board takes its place, so from now on we are available to all of you for what you need.

First of all we want to thank you for the trust you have placed in us. We hope to do our best and make you happy with our work. Also, we encourage you to participate with SEK, from the most recent partner to the most veteran, can teach us many things and contribute your bit to make the SEK everyone.

Of course, we want to make a very special mention to the Outgoing Board, which has worked the last 7 years for our society. Its great effort and dedication have made the SEK grow and becoming a world reference of our hobby. Jose Ramon, Juan Pablo, Eduardo and Roberto, thanks for everything. You have set the bar very high and we hope you will be proud of us. Now you can rest and enjoy this wonderful hobby. We do not want to forget either to thank all the collaborators of the Board for their work.

Finally, we want to announce that in a few days we will put at your disposal a suggestion box on the website so you can contribute with your ideas to improve the association.- Suggestion box ready -

Best regards.
---
XXIV SEK's Convention Results
Ortuella (Bizkaia), from April 29 to May 1
Click on image to access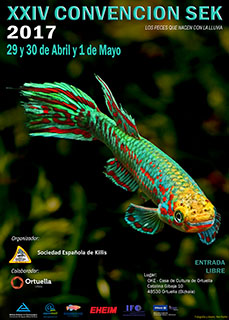 ---
CALL FOR SEK ELECTIONS
SEK's Board 2017-2021
Info:
---
XVI APK's Convention
Torres Novas,14-16 Octuber
---
XXIII SEK's Convention
Bilbao, from April 29 to May 1
Click on image to enter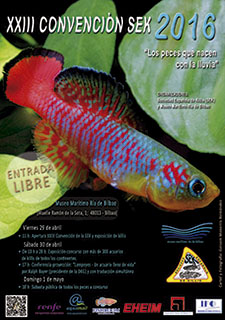 ---
Extraordinary General Assembly
February 14, 2015, Manganeses of Lampreana (Zamora)
1. Proposal Article RRI including: copyright
2. Submission to the vote of the membership
3. Questions and answers to the Board
How to vote:
- directly at such meeting
- delegated via assistant, vote in sealed envelope and DNI copy
- by post, vote and DNI copy in envelope
- email to Board, with name, surname, member number and vote

The different formats for the vote will be announced shortly.
The post with the announcement: here.
---
Lowered fees
2014 renewal, 1 December to 31 January
Dear members:
As you know, and after the vote in the General Assembly this year, the fee is reduced to 30 euros. People who direct debit last year, will be charged automatically. If someone wants to direct debit their fee, please send an email to the treasurer with the data.
Please check: Online service for payments and renewals.
Press F5 to refresh on that window if you still see old fees.
---
DISMISSED SERVICE
Almost nobody used this payment method and meant an unnecessary cost.
Online transactions will be ​​exclusively through Paypal.
---
Membership card generator
Access it from your profile
---
New SEK's logo
Old logo after being vectorized
Post where you can appreciate changes in higher resolutions and download: HERE
---
Change in the member's numbers!
As announced in the last BIK, the Board has decided to make a new change in the member's numbers, going to take a structure composed of: SEK [year of entrance] / [number of order in that year].
Example: SEK2013/01 would refer to the first member registered in 2013.
This way the new number assigned for members would become final. The new number will be lost in case of withdraw.
Read full notice on the forum
Changing members number format
---
You can realize your payments via:


Please check: Online service for payments and renewals.